Alumni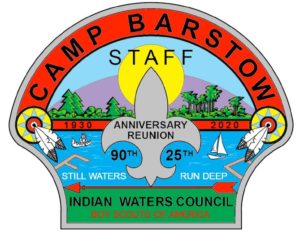 Camp Barstow is the local Boy Scout camp serving the midlands of South Carolina. Opened in 1930, and made possible by the generosity of philanthropist William S. Barstow, Camp Barstow has operated at three locations: 1930 – 1940 on a tract of land now part of Ft. Jackson, 1942 – 1995 in Gaston, and 1996 – present on Lake Murray near Batesburg.
Throughout this long history, the summer camp program at Camp Barstow has been delivered to Scouts by a dedicated staff who have generously given their time and talents to make summer camp at Camp Barstow an unforgettable experience in the lives of thousands of boys and young men.
The Facebook Group is for all Camp Barstow Staff members past and present.  There is information about the upcoming reunion on Tripp Clark's website.