VP of Properties here.
It's the start of 2020, a huge Anniversary year for Indian Waters Council. You will see many announcements but one of them is the 90th Anniversary of Camp Barstow. Our camp has some of the best facilities. That's evidenced by the many councils that have contacted us in the last year to inquire about what we're doing. About fifteen years ago the Council President created the VP of Properties position and from there a Barstow Development group was formed. Their task was to develop a long range plan for Barstow. The group met for weeks, months, reviewing and planning. The plan is continuously updated but the core backbone remains in place. During this process the Barstow Bears were formed and work began. Since that time the Development group and the Bears have completed about 115 projects.
It would be difficult to list the individuals and businesses that have contributed to this success. There are many and you are invited to join in this success.
To help everyone understand the enormity of this: the original camp was the ranger house, shop, O'Tuel, Trading Post, current BB range, storage compound, 3 shelters, dining hall, 3 latrines, boating area, swimming docks, climbing tower, the central shower house and open fields for program. That means the Development group and the Bears have done the pavilion, campfire ring, 9 camp site shelters, 23 Adirondacks, high and low COPE courses, bouldering wall, 7 program shelters, shower house in upper camp, rifle range, shotgun range, archery range, the cabins, shelter, bike shelter and Adirondack in Staff City, 30+ picnic tables, tractor shed, and a long list of other projects. At one time there were 20-30 volunteers working on a weekend.
We'll continue to innovate and lead the way but to do that we need everyone's help. At present the active Bears are ten or less folks, usually 6-7. If you aren't able to commit to regular work days that's fine. If you don't know anything about construction that's fine. If you are female that's fine. If you are a youth that's fine. Any and all talents are valuable.
This season we're building two 16-person Adirondacks and two hammock camping shelters. Both Adirondacks and one hammock shelter have been started. There are five "official" work days before summer camp opens. That isn't enough time to complete these projects. If anyone wants to work during the week or on a weekend other than a Barstow Bear weekend please let me know. As an example, Terry, Larry and I worked yesterday on the Adirondack in Staff City, and cut down some dead trees. If your unit wants to come to camp and work, let me know. If your social group, club, buddies, etc. want to do something useful for youth, let me know.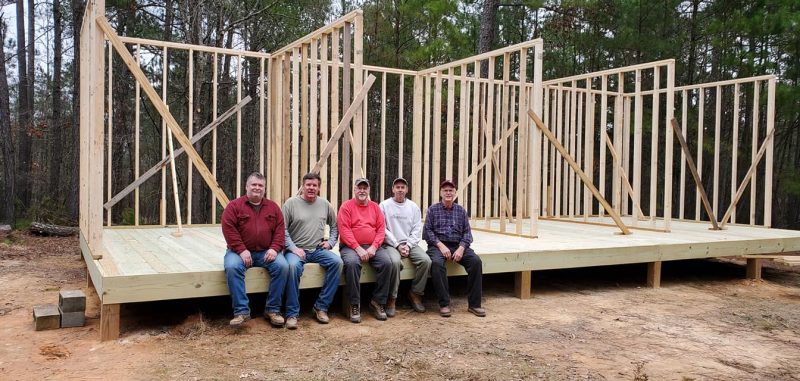 One challenge we have is that there is plenty to do other than these projects. We've identified 129 dead trees that need to be cut down, minus the 11 that we handled yesterday – and that's just on the main camp side of the road. The shop is well on it's way to being overhauled but we have about 3 days of work remaining. The Ranger House is being updated, 2 days of work remains. The O'Tuel building needs a ton of work. The boat building in the compound needs a day of work. Our new Ranger, William McCormick, has hit-the-ground running. He's responsible for regular maintenance and normal camp operations but he can't do it all.

Funds and obtaining construction materials is always an issue. It's funny and a little irritating when I read the comment cards from summer camp. "Add more adult Adirondacks, repair the docks, add more boats, etc." I guess some of these folks think that a snap of the fingers occurs and money falls from the sky to buy stuff and hire contractors. Maybe they don't know that this work is done with volunteers with no budget. If you are a contractor, business owner, or material supplier, and want to donate, we should talk. If you have contacts with suppliers, we should talk. If you are a Scout or parent of a Scout, an FOS donation is needed. If you are an individual that believes in Scouting, and providing learning and leadership opportunities for youth, please consider an FOS donation. If you are up in years, doing legacy planning, updating a will or have an elderly parent or friend that is, please consider a gift to the Council Endowment fund and joining the Heritage Society, we have folks that can help with that. If you, your business or Unit want to honor someone, sponsorship opportunities are available for the things we build.

Bottom line – there are many ways that you can help.

The Barstow Bears work at Camp the third Saturday of the month. On months with an OA Fellowship event we usually switch to that weekend. The current forecast for Saturday is improving, the rain should not start until late afternoon. The temperature will be cool in the morning rising to 50ish, that's perfect for construction work. If the forecast holds we'll work on the Adirondack in Staff City. If the forecast changes to rain we have plenty of things to do indoors. We'll install the deck boards and walls. Bring your standard tools, drill/impact drivers are needed to install the deck. If you are new to the group and don't have tools, that's fine. Bring gloves, if you don't have any I'll lend you a pair. We'll meet at the shop at 8, bring lunch. I'll arrive by 7:30 to get the trailer and begin loading the deck boards at the pavilion. The lumber for the walls is already in Staff City so while the deck is being installed the lumber can be cut.

Hope to see everyone there.

Bookmark the