Time To Make Plans In 2021
So far we have almost 400 Scouts and leaders signed up to attend Camp Barstow in 2021. We hope you will be part of the fun and adventure as we bounce back from the disappointment of last season. We are hiring the staff, making improvements to the camp, and getting ready to hold 4 awesome weeks of Scouts BSA summer camp starting in June.
There are 5 great reasons for your troop to consider coming to our lakeside camp this summer.
#1 Merit Badge Bundles: We have an innovative and tested way to teach merit badges that is unlike anywhere else. We eliminate lost time with changing classes and more grey hair for Scoutmasters wondering if anyone is hiding in the campsite or going to end up with a partial. Discover what makes the Barstow Bundles the SMs answer to program at camp.
#2 Fun: Our goal is to put fun back into Scout camp. How do we do that? By closing down merit badge instruction at 4 PM every day and staffing every program area in camp for super fun free time. We call it "Fun After 4". In the evenings we don't open up merit badge classes to teach easy elective merit badges. Instead we have organized activities led by our staff in all program areas like an Ecology Tour on our pontoon boat, Cowboy Action Shooting on the range, tubing on the lake and more. On Wednesday we run our camp wide Barstowree and the famous Bull Moose night hike. Your Scouts will not be hanging out in the campsite with all this laughter and buzz around camp.
#3 Scout Spirit & Staff: A song in the dining hall after every meal with raucous campfires and twilight parties in the pavilion. At Camp Barstow our veteran staff works hard to pass on the tradition of Scouting spirit through our energy in the dining hall and coming up with new material for campfires every week.
#4 Modern Facilities: Once you have spent a week in one of our electrified Adirondacks your Scouts will not want to go back to canvas wall tents. Over the last decade+ our crew of volunteers called the Barstow Bears has built Adirondacks and hammock shelters in every campsite. Even during the pandemic they built a 16-person unit and have started on a smaller one for Scoutmasters in another campsite. Our dining hall is air conditioned and our pavilion gives us a huge open activity building to run program in. Your Scouts and leaders will fall in love with our facilities.
#5 Scoutmaster Fun: At Barstow we like to say the adults get to be kids again. We accomplish that by not only opening up all of our fun activities for adults but also planning some special ones just for the big kids. We staff a special adults only night of tubing on the lake, run a SM shotgun tournament, create delicious meals in our Barstow Chef program, and finish the week off with a golf tournament that is pure fun. You can reconnect with your childhood memories of camp by having fun at Barstow.
Have Questions? Let's Talk!
Since the summer of 2018 I have been the Camp Director along with my partner and Program Director Chris McDuffie. As you are trying to decide where to go in the summer of 2021 we are just a call or text away happy to answer your questions or jump on a zoom.  At this point every week of camp has availability.  Right now to pull the trigger for your troop to come to our camp all we need is a commitment and a $100 deposit to hold a campsite.  Let us know how many Scouts you believe will come and we will hold a spot for you.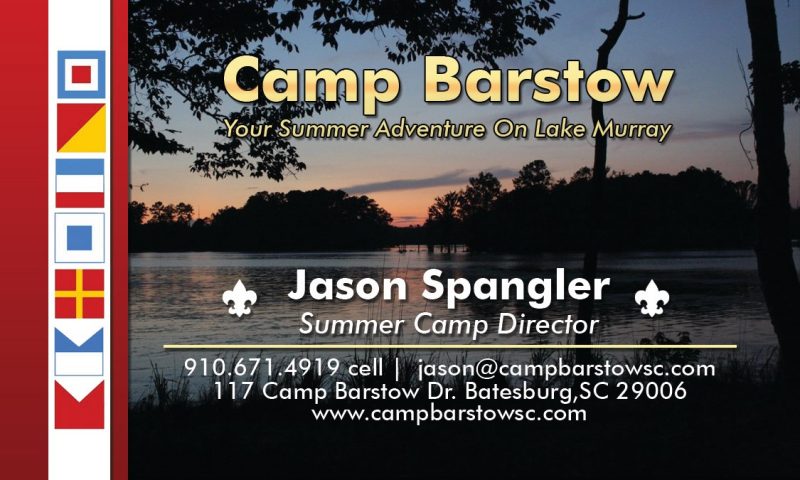 Bookmark the