One of the questions we have received since rolling out the new program is an obvious one. "What if a Scout already has one of the merit badges?"
We have 15 merit badge bundles in our program for the summer of 2019.  [read blog post on this roll out] A Scout coming to Camp Barstow has two simple choices.  What am I going take Session 1 and Session 2? Our hope is that with 15 programs to choose from that there will be a an obvious pair of programs that will match each Scouts interest and advancement needs.  This question was something that we tackled in conversations when building the program and I'd like to share three answers to this very legitimate question.
1) Some merit badge bundles have baked in options.  Our first solution to this issue was to make 4 of the programs flexible so that Session 1 and 2 have some diversity.  Therefore, if you have one of the merit badges offered perhaps the other session would be a better fit.
Frontiersman: Archery and Indian Lore are the core merit badges in this program.  However, with the handicraft badges the Scout has flexibility to pursue ones that work best.  In our Frontiersman program we assume most Scouts will complete 2 badges during the time we offer in class.  However the choice of which pair the Scout works on is up to them.  The Scout can choose from Woodcarving, Leatherwork, Basketry or Pottery.
Explorer: Environmental Science was our most popular merit badge in 2018 and therefore is the cornerstone of this program.  However, in the two sessions we swap out completely the other ecology badges that are paired with Environmental Science.  Session 1 features Nature and Insect Study.  Later in the week the Barstow Explorer features Mammal Study and Reptile & Amphibian Study merit badges.
Outdoorsman: The common merit badges in this program are Camping and Cooking.  However the two different sessions feature unique pairings.  Session 1 includes the elective merit badge Geocaching while Session 2 swaps out with Orienteering.
STEM: Robotics is the common merit badge for both sessions.  The first session includes two complimentary merit badges that work very well together with Astronomy and Space Exploration.  Later in the week Session 2 swaps those out for Game Design and Programming.
2) Our merit badge bundles sometimes extend beyond just the standard MB requirements and include activities that would attract a Scout whether they had one of the bundled badges or not.
Explorer: We will have a pontoon boat dedicated to this program so that the Scouts can learn these ecology badges from the deck of a boat rather than a picnic table.  Lake Murray offers a very diverse habitat. In our program Scouts will travel out to uninhabited islands across from camp to do some observations and experiments. You might already have Nature merit badge but would you miss the chance to explore a swampy cove or these islands from a deck boat?
Voyager: In previous years we have offered a trip in our 12-man "war canoes" as a week long high adventure.  This year it becomes the capstone event in our Voyager program.  After mastering Canoeing and Kayaking (along with earning the BSA Stand Up Paddleboarding badge) our Scouts in the Voyager program will take a several hour trek up the lake in these giant canoes.  You might already have canoeing merit badge from a previous summer camp trip but this experience will be so much more.
Skipper: Small boat sailing is not the most popular boating merit badge we offered last year.  However, with our new Skipper program we spend 2 1/2 days building towards a capstone event that was part of our previous full week sailing adventure.  At Camp Barstow we have a pair of 24-foot sail boats.  As the Scouts move up from Sunfish to intermediate size boats they will train on the big boats.  The capstone event is a 1/2 day sailing trip on the lake in one of the big boats really getting the true sailing experience.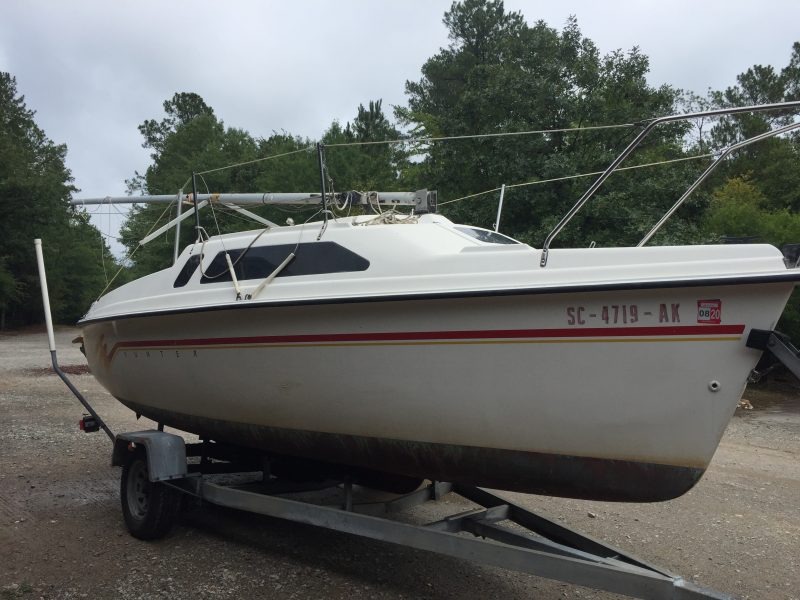 3) Some of our bundles are great opportunities to have fun versus just focusing on merit badge advancement.  Since a Scout has two sessions to choose from they have the luxury of picking one that matches their sense of adventure rather than for advancement.
Marksman: Let's face it – some Scouts fall in love with shooting sports.  Last summer we saw Scouts from Florida that signed up for Rifle Shooting merit badge even though they had already earned it.  They never get a chance to shoot rifles back home so the chance to do that for a week was worth it.  Our program bundle pairs Rifle Shooting and Shotgun Shooting.  A Scout may already have earned one of those.  However, the chance to do nothing but shoot for 2 1/2 days might be just the adventure they would like to pick for part of their week at Camp Barstow.
Ropes: Climbing merit badge is a popular merit badge that includes learning safety and conquering a wall.  However, our Barstow Ropes program includes the opportunity to do many of the low and high ropes elements on our impressive COPE course.   There is not a merit badge for COPE but for many Scouts the chance to buckle in and do high elements is an adventure worth 1/2 week of your summer camp.

Ultimately we see that with 15 programs to choose from Scouts coming to Barstow in 2019 have plenty of choices for their summer camp experience.  We don't offer any substitute merit badges in these 15 programs because each is planned out with a curriculum and sequence that doesn't allow for changes.  However, with our 4 PM free time and other twilight activities we think you will have a chance to do a little bit of everything at camp this summer.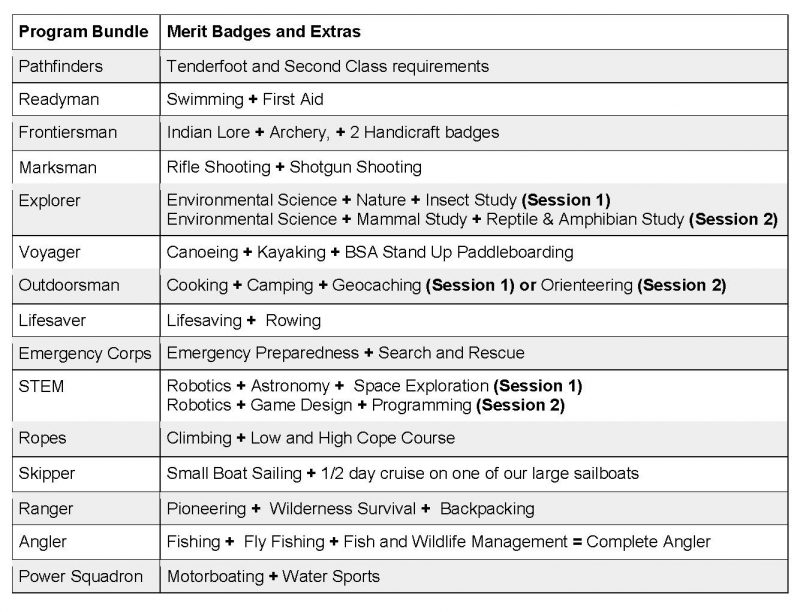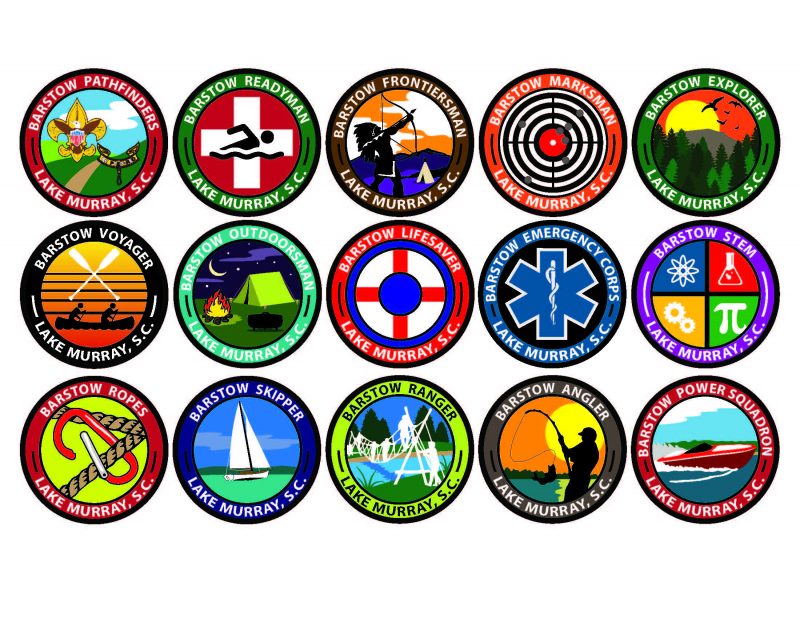 Bookmark the